Charly Brunner & Simone en hun album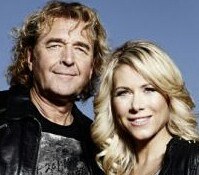 De Oostenrijkse Simone en Charly Brunner hebben vandaag hun duettenalbum Das kleine große Leben uitgebracht.
De twee zijn geen onbekenden van elkaar. Eind jaren 90 schreef Charly Brunner al twee nummers voor Simone, maar een echte samenwerking kwam pas jaren later met het nummer "Ich denk noch an Dich" wat op het album Pur van Simone verscheen. Door dat nummer bleek dat hun stemmen goed bij elkaar passen en dat de samenwerking erg goed ging. Dat merkte de platenmaatschappij ook en stelde voor om een duettenalbum te maken.
Het album is geen typisch schlageralbum geworden door de teksten. Zo is er het disco-fox nummer "Für immer jung" wat in de jaren 80 een hit was van Alphaville. Een ander nummer is "Islands in The Sun" waar duidelijk wordt dat de harmonie van hen stemmen zeer goed is. Ook staat er op het album een Duitse versie van het nummer "Let It Be Me" wat door Sonny & Cher gezongen is.
Bekijk hier de videoclip van Charly Brunner en Simone met Das kleine große Leben: